Bangkok Travel
Introduction of Bangkok:
Bangkok is a city of contradictions: A buzzing metropolis with a laid back attitude, elegant temples and

palaces stand side by side with Romanesque concrete skyscrapers and charming wooden houses. And while the main thoroughfares are choked with traffic and fumes, nearby side roads contain tranquil houses nestled among lush gardens. Love it and hate it, you can't ignore or forget it. Bangkok has dominated Thailand's urban hierarchy, as well as its political, commercial and cultural life, since the late 18th century. Bangkok can be divided into two parts by the main north-south train line - Old Bangkok and New Bangkok. Old Bangkok glitters in the portion between the river and the railway and it is here that most of the older temples and the original palace are located. The new Bangkok is east of the railway, covering many times more area than the old city. It incorporates the main commercial and tourist districts, which give way to a vast residential sprawl.


Key Attractions of Thailand :
Royal Grand Palace: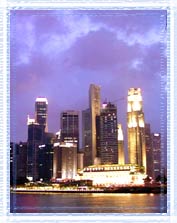 The Royal Grand Palace is a glittering walled complex that houses several palaces, all highly decorated with tiles and ceramics. Building was begun in 1782 when Bangkok was founded as the capital of Thailand. The complex houses Wat Phra Kaeo, the holiest of all Thai temples, where the sacred Emerald Buddha rests, not covered in emeralds but jade. There is even a scale model of Angkor Wat. There is a strict dress code and visitors wearing shorts, mini-skirts, sleeveless shirts or flip-flops will be refused entry, although it is possible to hire trousers and plastic shoes.

National Museum :
One of the largest and most comprehensive museums in the region, the National Museum houses a vast collection of artifacts from the neolithic period through to more recent periods. The building, begun in 1782, is fascinating in its own right, having been built in traditional Thai style. The museum is so large that it needs more than one visit, but if time is short it must be spent in the lovely teak pavilion, which houses personal royal belongings. Free guided tours are given by volunteers at 0930 on Wednesdays and Thursdays and are highly recommended.
Wat Pho (Temple of the Reclining Buddha)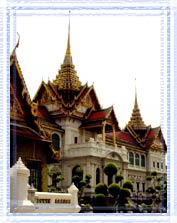 Wat Pho is the oldest and largest temple in Bangkok and houses an enormous gold-plated Reclining Buddha, which is 46m (150ft) long and 15m (49ft) high. Today, it is also renowned for its teaching of herbal medicine and traditional massage. The other attractions include include Wat Phra Kaew and the Grand Palace and Wat Traimit. Wat Traimit isthe Temple of the Golden Buddha, home to the impressive 3m tall, 5 1/2-tonne solid-gold Buddha image and how can you forget Jim Thompson's House . Other sights include the touristy Wat Sai floating market in Thonburi, a boat trip through the city's extensive and pongy network of canals (klongs), the Saovabha Institute Snake Farm and the renowned Oriental Hotel.
Night life :
Bangkok has the reputation of a "city of sin," and it's certainly true that commercial sex is not difficult to find. Much of Bangkok's nightlife is concentrated in the two red light districts of Bangkok - Patpong (between Silom and Surawong Roads) and Soi Cowboy (Sukhumvit). Bangkok's sex industry is as blatant and booming as ever. However, in addition to the numerous sex clubs and massage parlours, there are many excellent cocktail bars and restaurants and, at night, the area is always thronging with people.
Shopping :
Bangkok is arguably the best place in Asia for shopping and visitors will be spoilt for choice with the extensive shopping malls, department stores, small shops and markets. The city is also a bargain hunter's paradise and haggling with street vendors is to be expected and all part of the fun enjoyed by both buyer and seller. The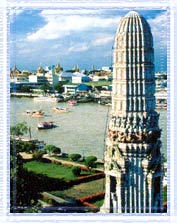 Silom Road area is one of the main shopping centres, which boasts numerous specialist shops and department stores, including Robinsons, several shopping plazas and a wide range of silk and antique shops, as well as many tailors. The ultimate shopping experience is to be had at The Emporium on Sukhumvit with brand-name clothing and accessories, as well as cinemas, supermarkets and restaurants.
BANGKOK & PATTAYA -------------- 04 NIGHTS / 05 DAYS PACKAGE
For More Information----contact us
BANGKOK ----------------------------------- 02 NIGHTS / 03 DAYS PACKAGE
For More Information----contact us
BANGKOK & PATTAYA ------------------ 02 NIGHTS/03 DAYS PACKAGE
For More Information----contact us