HOME
»
Maldives Holidays
Maldives Holidays
MALDIVES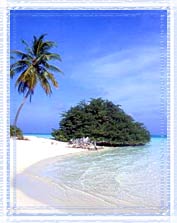 Nation of island A string of pearls scattered over the deep blue Indian ocean - The first glimpse you get of this fascinating atoll-formations confirms two unique aspects of the republic of Maldives: not only does it consist of the most beautiful tropical island, but 99%of its 90.000 km2 is covered by the sea. 1190 island are spread over 26 atolls, ring like coral formations enclosing a lagoon, which gives the Maldives its unique paradise-like appearance. They stretch for about 820 km from north to south, 130 km at the widest point and does not exceed a length of 4.5 miles or an altitude of 6 feet above sea level. No more than 201 islands are inhabited; the rest includes over 98 tourist resort and uninhabited island, some of which are used for fish drying purpose or other agricultural activities.
The capital Male', the base for the Government, Trade, Commerce, Business, Health and Education, is located in the center of the atoll chain, a small island buzzing with the sounds and activities of about 80.000 people (one third of the population). Time moves slowly in the Maldives, rushing to get anywhere is almost an alien concept. You do everything according to your wishes and in your own time. The rhythm of the waves gently rushing to the shore, the soft swishing of the palm fronds as they brush one another in the gentle sea breeze. Savour the sounds you hear breaking the profound quite and serenity that has embraced the Maldives for eons. This is the place you have been looking for. Sheer pleasure awaits you at our shores.
QUICK FACTS ON THE MALDIVES
Location:
South west of Sri Lanka and India
Population:
270,101(approx)
Climate:
Warm all year round (23-32 Degrees Celsius)
Total no. of islands:
1190
No. of inhabited islands:
201
Number of tourist resorts in operation:
Over 98
Language:
Dhivehi- English is widely used in business
Religion:
100%Islam
Government:
Republic
Head of State:
His Excellency President Maumoon Abdul Gayoom
Currency:
Maldivian Rufiyaa(US$ 1.00= MRF 12.72)* at the time of publishing
Mode of Entry:
By air (male' International Airport)
Visa:
30 days visa for all visitors on arrival free of charge
Currency Accepted:
US Dollars, most European currencies.
Credit Cards:
VISA ,Master Card , American Express an other major credit cards.
RESORT ISLANDS
| | |
| --- | --- |
| Hilton Maldives Resort & Spa | South Ari Atoll |
| Kuredu Island Resort | Lhaviyani Atoll |
| Komanandoo Island Resort | Lhaviyani Atoll |
| Lily Beach Resort | South Ari Atoll |
| Meeru Island Resort | North Male'Atoll |
| Mirihi Island Resort | South Ari Atoll |
| Vakarufalhi Island Resort | South Ari Atoll |
| Velavaru Island Resort | Dhaalu Atoll |
| Veligandu Island Resort | North Ari Atoll |
| Bandos Island Resort | North Male'Atoll |
| Banyan Tree Maldives Vabbinfaru | North Male'Atoll |
| Coco Palm Resort & Spa | Baa Atoll |
| Dhoni Mighill | South Ari Atoll |
| Ellaidhoo Tourist Resort | North Ari Atoll |
| Four Seasons Resort | North Male'Atoll |
| Fullmoon Beach Resort | North Male'Atoll |
| Helengeli Tourist Village | North Male'Atoll |
| Huvafen Fushi | North Male'Atoll |
| Kandooma Tourist Resort | South Male' Atoll |
| Kurumba Village | North Male'Atoll |
| Lagunu Beach Resort | South Male' Atoll |
| Lohifushi Island Resort | North Male'Atoll |
| Olhuveli Beach Resort | South Male' Atoll |
| One & Only Kauhuraa | Lhaviyani Atoll |
| Paradise Island Resort | North Male'Atoll |
| Sun Island Resort | South Ari Atoll |
| Sonevafushi Resort & Spa | Baa Atoll |
| Sonevagili Resort & Spa | North Male'Atoll |
| Taj Exotica Resort & Spa | South Male' Atoll |































DIRECT FLIGHTS
| | |
| --- | --- |
| Country of Origin | Name of Airlines |
| Russia | Aeroflot (SU) |
| Seychelles | Air Seychelles (HM) |
| Austria | Austrian Airlines (OS) |
| Germany | Luft Transport Union International Airways (LTU) |
| United Arab Emirates | Emirates (UK) |
| Italy | Air Europe (EP) |
| Italy | Eurofly (EFZ/GJ) |
| Italy | Lauda Air (LDI) |
| India | Indian Airlines (MH) |
| Singapore | Singapore Airlines (SQ) |
| Sri Lanka | Srilankan Airlines (UL) |
| Qatar | Qatar Airways (QR) |

Transfers to your Resort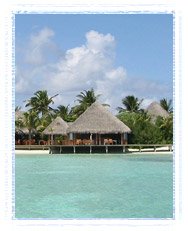 Tourists arriving in the Maldives are transferred to the resort of their choice from Male' International Airport by either speedboat, seaplane or by traditional Maldivian 'dhoni' which have been mechanized to serve as passenger transport. Resorts outside Male' Atoll usually offer speedboat transfers in big boats that travel at 20-25 knots. These resorts are also served by seaplane.The Maldives boasts the biggest water -aerodrome and the largest fleet of seaplanes in the world. For many visitors, this first side on a seaplane is a noval experience. The DeHavilland Twin Otter carries about 18 passengers and 3crew. Resorts close to the airport and in Male; Atoll operate both speedboats and dhoni transfers.
All transfers are safe and comfortable.

EXCURSIONS

Most holidaymakers visiting the Maldives see little of life in the Maldives, as resort are exclusive and are on island by themselves. Excursions offer you the possibility of venturing out for a change of scenery. You may visit resorts close by or catch a glimpse of the daily life of Maldivian in one of the fishing village, For those who wish to test their skills at fishing, a variety of fishing expeditions can be organized. Some excursions are unique; a day and night alone on a private island, or a two-day cruise for two on the luxury live-aboard are just a few of the possibilities at some of the resorts. Taking part in a photo flight is one way of creating indelible memories and getting some incredible shots of the reefs and island of the Maldives.

FISHERMAN'S VILLAGE

A fun filled immensely rewarding experience that will give you an insight into the local way of living on the islands. Resorts arrange half-day excursion, which normally include a visit to a local fisherman village and a Resort island, usually quite different from the one you are staying. Smiling children welcome you on the island as you step on to the jetty though shy at first, they will soon warm up to even take you around sightseeing! Full Day excursion would in addition, include a stop at a deserted island where a barbecued or packed lunch will be ready for you in minutes. It is recommended to dress modestly and to take some spare cash for shopping.

VISIT TO THE CAPITAL MALE

Most of the resorts offer this popular excursion, which usually takes half a day. Guests leave the resort soon after breakfast or lunch and will be taken by dhoni or speedboat to the smallest capital city in the world! Male, the capital of Maldives is a small yet vibrant town that is green, clean and breathing-life. The town is the most populous and houses more than a quarter of the total population of the country. Furthermore, the town is unusually clubbed up with high rise skyscrapers and modern feats of technology. Besides being one of the most dense in terms of vehicle population, it is also a shopper's paradise, with all conveniences being available within easy reach. If you are in Male and want to explore the most favorite places, here is some handy guidance that might just be useful:

The Fish Market

The main commercial area of Male' is located on the northern waterfront of Male'. In this area are the Male' Fish Market and the Local Market selling a range of local produce. While some 'dhonis' from all corners of the country unload dried fish, fresh fruits and vegetables from the atolls others are seen loading everything from foodstuffs to construction materials. The pace increases in the mid-afternoon as fishing 'dhonis' start returning with their day's catch. The catch, mainly tuna are carried across the road into the open-sided market and laid out on the tiled floors. As fast as the fish are brought in they are bought and taken away by men from all walks of life. The market is kept scrupulously clean, washed down each day and disinfected.

Huskuru Miskiiy

Built in the 17th century, the Huskuru Miskiiy or Friday Mosque served the population of Male' as their main mosque for almost four centuries, until the Islamic Centre and Grand Friday Mosque took over the function in 1984. Built by Sultan Ibrahim Iskandhar in 1656, the mosque is a masterpiece of coral curving and traditional workmanship - probably the best display of coral curving anywhere in the world. The walls of the mosque are hewn together with blocks of filigree-curved coral blocks. Heavy wooden doors slide open to the inner sanctums with lamp hangings of wood and panels intricately curved with Arabic writings. The area surrounding the mosque is a cemetery with a legion of intricately curved coral headstones. The Munnaaru or minaret in front of the mosque, used to call the faithful to prayer was built in 1675 by the same Sultan.
History reveals that the mosque was built by Sultan Ibrahim Sikander in 1656, who also built the frontal minaret.

The Islamic Centre

The Islamic Centre is the most vivid architectural landmark of Male'. A spectacular golden dome in all its majesty dominates the skyline, which is seen while approaching Male', from any direction. The building symbolizes the importance of Islamic religion, which had ruled all aspects of life in the country for centuries. Completed in 1984, the Centre consists of a mosque big enough for 5000 people, an Islamic library, conference hall, classrooms and offices.

Mulee Aage

Right in front of the Hukuru Miskiiy is Mulee-aage, a palace built in 1906 by Sultan Mohamed Shamsuddeen III, replacing a house dating back to the mid-17th century. The palace with its wrought iron gates and fretwork friezes on its roof edges and well-kept garden was intended for his son, but the Sultan was deposed. During World War II vegetables were grown in its garden to help relieve food shortages. It became the President's Official Residence when Maldives became a republic in 1953 and remained so until 1994, when the new Presidential Palace was built. At present Mulee-aage houses the President's Office.

The Local Market

The Local Market, just a block away from the Male' Fish Market on the northern waterfront, is divided into small stalls. Here the pace is slower and the atmosphere peaceful, compared to the hectic activity in the rest of this neighborhood. Each stall is filled with a variety of local produce mainly from the atolls. Here you will find different kinds of local vegetables, fruits and yams, packets of sweetmeat, nuts and breadfruit chips, bottles of home made sweets and pickles and bunches of bananas hanging on coir ropes from ceiling beams. Another building just next door sells smoked and dried fish.

The National Museum

The National Museum is housed in the only remaining building of the former Sultan's Palace, which is now the Sultan's Park. It is an Edwardian colonial-style building of three stories, fairly low key from the outside compared to the amazing collection inside. The articles on display range from thrones and palanquins used by former sultans to the first printing press used in the country, the rifle used by Mohamed Thakurufaanu in his fight against the Portuguese in the 16th century, ceremonial robes, headgear and umbrellas used by Sultans to statues and other figures dating from 11th century, excavated from former temples. A variety of artifacts from times past would give an idea of the unique and rich culture and history of this island nation. A visit to the museum gives an instant insight to the wealth of history most visitors never suspect existed. No longer will you think of the Maldives solely in terms of a tourist destination. The museum is open daily except Friday and public holidays from 9.00 to 11.40 and 3.00 to 5.40. Shopping for souvenirs is a very exciting and unique experience, and you can try your luck in bargaining. Little trinkets and authentic local handicraft is available from any of the numerous shop and boutiques. Don't forget your camera and please dress modestly.

Aerial excursions

Some selected resorts arrange aerial excursions for photo flights on request of the guest. They usually take 1.5 minutes on twin -otter seaplane flights; a very exhilarating experience seeing the picturesque Maldives spread out below in all its glory. Don't forget your camera and several rolls of film. However the seaplane will usually pick up groups of passengers from the resort directly.

VIRGIN ISLAND

With so many deserted islands lying around, why not have the Robinson Crusoe experience?
With a packed food basket and other provisions, the couple embarks on the voyage of a lifetime - the ultimate virgin island experience. Relax and just enjoy life at paradise. When you get tired of each other, explore the environment around you , the finest, whitest beach, do a bit of snorkeling or if you are daring enough, climb onto a palm tree and pluck a coconut for your beloved. There will be no other human contact made until the crew comes to pickup the smiling and very contented couple. Available only at selected resorts.

FISHING

In a country that is more sea than land, fishing is one of the most popular sports, apart from being the main occupation of Maldives. The country's tuna fleet of local-dhonis and trawlers make a spectacular sight as they set out to sea from virtually every island and return home at sunset. Visitors to the Maldives, however, have a choice of recreation fishing trips that are offered by the resorts. The favorite fishing expeditions for tourist are night fishing, big-game fishing and trolling.

NIGHT FISHING

Fish is caught by hook with bait by dropping the line in the reefs and shallows close to the resort. Night fishing is done from the deck of the traditional Maldivian boats, the dhoni. Resorts organize these trips towards late afternoon when the boat, or boats in case the group is bigger, set out from the resort. The boat drops anchor in points of the reef or shallows where fishing is good. These locations vary with the tide, the moon and the currents. For many tourists a night fishing trip is a first-time experience. The crew and guides on board are always willing to assist and offer guideance. Most resorts also arrange beach barbecues after the excursion.

BIG GAME FISHING

This is for serious fisherman after the bigger fish; marlin, Wahoo, sailfish, barracuda, Dorado and giant tuna. The big game fishing boats are outfitted with fighting chairs and strong roads. This excursion of about 4 to 6 hours is for single fisherman with crew or for small group. Resorts that offer big-game fishing include a packed lunch, as boats have to venture into open sea. Over the years, this sport has developed into its present form, of standard equipment and vessel as in other parts of the world. The traditional method of big-game fishing is closer to trolling.

TROLLING

This is a traditional Maldivian occupation where game fish are caught by drawing a line with hooked bait behind the boat. Trolling used to be done by sailboat but these have been replaced by motorized-boats, which ply inside the atolls, mostly close to the reefs. The boat crew knows where fish are likely to bite, depending on the wind and tide. Trolling is leisurely but be careful that the nylon lines do not cut your fingers when the fish bites.

SCUBA DIVING

DIVER'S PARADISE
The best dive sites in the world! There are more fish in the Maldivian seas than there are people on the island. There is more co lour in the underwater coral gardens that can be matched by the most wonderful hands caped gardens anywhere in the world. There is more excitement to be had diving these waters than in a challenging water in the most complex terrains of the earth. Anyone who has ever dived in the Maldives will never disagree to any of these "bold" statements for it's the simple, unaffected truth. There is the kind of beauty in the depths of the Maldivian waters which is truly unrivalled by anything else. Divers who have been to the Maldives come back again and again- they are lured back by the psychedelic reefs, the exotic marine life that they encounter at close quarters every time they dive in the Maldives.


SEE THE FRAGILITY OF THE BEAUTY

It took millions of years for the Maldives to form destruction can take only a fraction of that time. The delicate reefs which make up the Maldives are fragile, to say the least. A careless brush of your hand can destroy the beauty of what you can touch in a millisecond. The beauty of underwater Maldives will overwhelm you. If you take care , the same feeling can been experienced all over again by thousand more, for millions of more years to come.

DIVING HOLIDAY

The Maldives is now established as one of the most exciting Diving Destination in the world. In a country that is 99% sea, there is more to discover underwater than on land. Diving in the Maldives is safe and enjoyable as professional dive schools and dive bases operate on all resort island. Internationally qualified instructors conduct courses for all levels of divers - from novice to expert. Introductory courses introduce the new enthusiasts to this exciting sport. Most resorts have clear blue lagoons and a house reef that make intro dives easy. Boat trips are arranged by Dive schools to the popular dive-sites on the shallows, reefs, caves and channels.

RECOMMENED ISLANDS FOR DIVING

Bandos Island Resort

Ellaidhoo Tourist Resort

Kandooma Tourist Resort

Kuredu Island Resort

Lily Beach Resort

Lohifushi Island Resort

Meeru Island Resort

Vakarufalhi Island Resort

Velavaru Island Resort

Veligandu Island Resort


RELAX HOLIDAY

Tranquility, Peace and harmony; the Maldives is the ultimate destination for those seeking total relaxation, Where the unhurried pace of life blends into the natural surrounding dominated by the blue sky, the calm sea and cool breeze. Everywhere is the sound of nature, the rusting of the palm fronds, and the sound of waves lapping the shore. Resorts in the Maldives are built to provide privacy and personal space. This is the perfect getaway for those who need a break from the hurry, worry and bustle and demands of life in a crowded world.

RECOMMENDED ISLANDS FOR RELAXATING

Coco palm Resort & Spa

Dhoni Mighili

Four Seasons

Hilton Maldives Resort & Spa

Huvafen Fushi

Komandoo Island Resort

Kuredu Island Resort

Lily Beach Resort

Meeru Island Resort

Mirihi Island Resort

One & only Kanuhuraa

Taj Exotica Resort & Spa

Vakarufalhi Island Resort

Velavaru Island Resort

Veligandu Island Resort

HONEYMOON SPECIAL

Dazzling beaches, crystal clear waters, romantic sunset, and luxurious accommodation. What else do you need for those special moments of your lives when nothing else matters but the time you share with one another? Maldives offers you all this and more as the ideal honeymoon destination. Our carefully selected island, miles from civilization will defiantly make those precious days last forever and ever.

RECOMMENDED ISLANDS FOR HONEYMOONERS

Dhoni Mighili

Four Seasons

Hilton Maldives Resort & Spa

Huvafen Fushi

Komandoo Island Resort

Mirihi Island Resort

One & only Kanuhuraa

Taj Exotica

Vakarufalhi Island Resort

Velavaru Island Resort

Veligandu Island Resort

FAMILY HOLIDAY

If you are looking for a fun-filled, sun-drenched holiday with plenty of sand and the surf, our selected islands will not disappoint you. The islands offer a number of activities for the whole family to get involved in and share. Some of the islands also offer a professional child minding service, you need sometime for yourselves and want to lave your presious one in capable hands.

RECOMMENDED ISLANDS FOR FAMILIES

Bandos Island Resort

Fullmoon Beach Resort

Kurumba Village

Laguna Beach Resort

Meeru Island Resort

Paradise Island Resort

Sun Island Resort

SPA HOLIDAYS

The latest addition to the Maldivian holiday experience of total relaxation is the spa. Wellness centers and spas in the Maldivian resorts include traditional healing arts to the exotic practice of the orient and the better-known therapies from Europe. Ayurvedic healing, Thai massage, acupressure, reflex massage, yoga, meditation, shiatsu massage and Maldivian natural therapies, these are all on offer. The spas are staffed by experienced therapiests and fitness professionals from around the world, while many Maldivian are learning these ancient arts and practices. Soothing, relaxing, energizing and rejuvenating, these healing techniques blend in well with the tranquil beauty of the Maldives and the gentle pace of life in these islands.



RECOMMENDED ISLANDS FOR SPA HOLIAYS!

Banyan tree Maldives Vabbinfaru

Coco palm Resort & Spa

Dhoni Mighill

Four Seasons

Hilton Maldives Resort & Spa

Huvafen Fushi

Kurumba Village

One & Only Kanuhuraa

Sonevagili Resort & Spa

Taj Exotica

SURFING HOLIDAYS

Surfing is mainly concentrated in Male' Atoll in the area between Kuda Villingili to the north and Hulhule; the airport islands. Sufers usually spend their holiday on a safsri boat traveling between points or choose a resort close to the main surf points. The most popular breaks are "Jailbreak" near Himmafushi, "Honkys" and "Sultans"near Thamburudhoo, "Colas" near Thuludhoo, "Chickens" near Kuda Villingili and "Airpot" near Hulhule' (airport). The best surfing is from April through October. The Maldives is fast becoming a popular surfing destination. In the outer atolls, Hadhumathi and Huvadhu also offer excellent surfing. Best surf in Hadhumathi is from March/April and from August to November. Huvadhu's surf season is from January to March and from November to October.

RECOMMENDED ISLANDS FOR SURFING HOLIDAYS

Lohifushi Island Resort

FISHING HOLIDAY

As fishing is the main occupation of the Maldivian people, the country's resort islands and tour-operators find it easy to offer some of the best fishing trips and excursion for visitors. From night-fishing; an after-sunset trip by boat to an adjacent reef or shallow when lines with bait and sinker can produce many varieties of reef-fish and the occasional small shark to trolling and big-game boats complete with fighting chair or traditional Maldivian dhonis. If one is adventurous enough, a day on a Maldivian fishing boat can also be arranged. This will be a day- long trip and the visitors may be well advised that these fishermen do it for a living, not sport! As with all Beachcomber Tours holidays, the visitor has ample choice in fishing, too.

RECOMMENDED ISLANDS FOR FISHING HOLIDAYS!

Bandos Island Resort

Hilton Maldives Resort & Spa

Kuredu Island Resort

Meeru Island Resort

Sonevagili Resort & Spa

Sun Island Resort

Velavaru Island Resort

MEETINGS & INCENTIVES

The tranquil, scenic beauty of the Maldives provides the ideal backdrop against which seminars; board meetings, conventions and exhibitions can be organized. Meetings planners and organizers will find the Maldives a mix of courteous, efficient service in the atmosphere that lends luxury and comfort to participants in business events. The resorts that cater to the meeting market provide all amenities and equipment necessary for successful meetings. Incentive groups also find the Maldives a heaven away from the stress and demands of the hectic pace of work and living on this turbulent world.

RECOMMENDED ISLANDS FOR MEETINGS & INCENTIVES!

Bandos Island Resort

Kurumba Village

Paradise Island Resort

Sun Island Resort

CRUISING

Beyond the tourism zones where the resort islands are located, the Maldives and its 1190 islands, its people, culture and history is largely unexplored. The government has recently opened up the country for cruising, which may include diving safaris. Most visitors to this archipelago, however, are content to cruise from one exquisitely beautiful island to another. They may also visit an inhabited island to witness life on the idyllic island villages where main activity is fidshing. Cruising the Maldives is tremendously exciting with your days filled with stops at desert islands, snorkeling on colorful reefs and lazing away on the pristine white beaches.

RECOMMENDED CRUISE BOATS

Dream Voyager

Hamathi

Four Seasons Explorer

Nooraanee Queen

Hotels for accommodation in Male

Male is a small town where a number of decent hotels have sprung up in the recent past catering to the growing demand of the business community. There are hotels of varying budgets, ranging from budget class to 3 star. These are usually for the travelers who arrive in Male to conduct business deals with the local populace or for transit clients, who have to either take a morning sea plane to a distant resort or catch a flight out of Maldives at an odd hour of the night.

Following are some of the hotels in Male ::

| | | |
| --- | --- | --- |
| ATHAMA PALACE | EXTRA HEAVEN | BURUNEEGE RESIDENCE |
| CITY PALACE HOTEL | CHAMPA MOON | FARIVA STAY |
| MAADHUNI INN | MAAFURU GUEST HOUSE | MARBLE TOURIST LODGE |
| ROYAL INN | VILLINGILI VIEW INN | KAM HOTEL** |
| KAI LODGE** | | |
| CENTRAL HOTEL** | MOOKAI HOTEL** | NASANDHURA PALACE HOTEL** |
| RELAX INN** | | |
Visa Information
Free 30 days Visa upon arrival for all visitors
Visitors entering the Republic of Maldives should fulfill the following requirement for the grant of an entry permit into the country.
" Possession of a valid international travel document issued by the Government of a Sovereign State (eg. Passport)
" Possession of a valid return air ticket to a destination where the passenger has permission to enter, together with necessary visas for the onward journey to the next destination. " Possession of a minimum of US$30.00 per person per day or confirmed hotel reservation for the intended period of stay in the Maldives. Following are exempted from this requirement.

" Diplomats

" UN Personnel

" Approved persons for employment

" Technical and other experts attached to the Government

" Visitors with confirmed bookings in registered tourist resort/hotels etc.

" Visitors sponsored by Maldivians

- No prior visa is required to enter the Republic of Maldives. Entry permit will be granted to visitors on arrival at designated ports of entry, based on the immigration requirements.

An entry permit does not allow a visitor to take up employment, set up any business or exercise any profession whether paid or unpaid except with the consent and in conformity with the pertinent laws and regulations of the Maldives. However, a visitor or foreign delegation visiting the Maldives to conclude business agreements, contracts or to negotiate business transactions with their counterparts do not require work permits if the stay does not exceed the duration granted on arrival.

- An expatriate must obtain a work permit from the Ministry of Human Resources Employment and Labour, prior to arrival in Maldives to engage in employment. Note : Visitors who stay beyond the period for which they have been approved may be deported.
" The Government of Maldives refuses admission and transit to holder of Merchant Seaman books.

- Disembarkation and Embarkation card shall be filled by every passenger and submitted to the Immigration Officer on entry.

- Important for Indian passport holders
It is mandatory for every traveler holding an Indian passport to get an emigration clearance prior to boarding a flight bound for


Maldives Holidays Reservation Form