HOME
»
Singapore Holidays
Singapore Holidays
Brief Introduction about Singapore :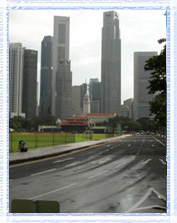 A vibrant, multi-cultural, cosmopolitan and sophisticated city-state, Singapore expresses the essence of today's New Asia. Its many names describe its attributes: City of Diverse Cultures, The Garden City, The Fun City and City for the Arts - these are characteristics that best describe Singapore. The diversity of things to do and see is unrivalled. The ease of moving around and the relative safety of Singapore make it most enjoyable for any visitor who likes the free-and-easy kind of touring. Visitors to Singapore are often pleasantly surprised by this miracle city, which has the world's best airport, one of the world's busiest seaports and is regarded by business travellers the world over as the "Best Business Destination." In Singapore, each surrounding enclave has its own distinct flavour, from the aromatic spice stores of Little India to the tumbledown backstreets of Chinatown, where it's still possible to find calligraphers and fortune tellers, or the Arab Quarter, whose cluttered stores sell fine cloths and silks. Beyond the city, is the Bukit Timah Nature Reserve, the splendid Singapore Zoological Gardens, complete with night safari tours, and the oriental Disneyworld attractions of Haw Par Villa. Offshore, you'll find Sentosa, the island amusement arcade which is linked to the south coast by a short causeway (and cable car), and Pulau Ubin, off the east coast, where the inhabitants continue to live a traditional kampung (village) life.
Singapore - Metropolitan Country
Singapore is not just one island, but a main island with over 60 surrounding islets. The main island has total land area of about 640-sq-kms. In just 150 years, Singapore has grown into a thriving centre of commerce and industry. Singapore is the busiest port in the world with over 600 shipping lines, sending super tankers, container ships and passenger liners to share the busy waters with coastal fishing vessels and wooden lighters. Singapore's strategic location, excellent facilities, fascinating cultural contrasts and tourist attractions contribute to its success as a leading destination of both business and pleasure.
Multicultural Environment
The old saying "Good things come in small packages", fits well with Singapore. A small country but with certainly offers big when it comes to business, entertainment, food and shopping. From the spanking new shopping malls of Orchard Road to the bustling hawker centres to the dozens of discos, pubs and restaurants, there's plenty to do all year round. Fortune tellers, and temple worshipers are still a part of everyday life in the crowded streets of Chinatown. Little India is just another face of India, where you can buy the best Sari material, freshly ground spices or a picture of your favourite Hindu God.
Climate Of Singapore
Singapore's climate is warm and humid, with only slight variations between the average maximum of 31°C and minimum of 23°C. This tropical climate makes Singapore ideal for those who enjoy sunbathing, swimming, sailing and other water sports.
Facts for the Traveler
Visas: Most Western nationals either do not require a visa at all or do not require a visa for a social stay of up to 90 days. A 30-day permit is issued on arrival, and extensions are difficult to obtain.
Singapore Tours

Asian Civilisations Museum
Housed in a restored neo-classical building dating back to 1910, the museum focuses on the world of Chinese beliefs, symbolism, connoisseurship and the Chinese scholar tradition, with a collection of Buddhist artifacts, imperial porcelain and seventeenth-century Ming-style furniture. It is seen as an important showcase for the culture's development. There are free guided tours.
Chinatown :
Singapore's Chinatown evolved in about 1821 when the first Chinese junk arrived from Xiamen, Fujian province. Its four main districts - Kreta Ayer, Telok Ayer, Tanjong Pagar and Bukit Pasoh - each have a distinctive flavour of their own. The Chinese heart, in the Trengganu/Smith Street area, is marked by the Fuk Tak Chi and Thian Hock Keng temples. Housewives haggle for the best produce making this a lively and noisy ethnic quarter at times. But peace and quiet is available in the temples and at Yixing Xuan's Teahouse where the ancient, ritualistic art of making tea as a metaphor for life goes on.
Raffles Hotel :
Built in 1887 and declared a National Monument exactly 100 years later, Raffles Hotel is one of the world's last remaining Victorian grand hotels of the East. Its 160 million Singapore Dollar facelift in 1991, based on its heyday in 1915, has ensured the hotel retains the unique charm of an age and sensibility now just a memory. Tourists flock for afternoon tea in the Tiffin Room and a Singapore Sling in the Long Bar.
Chinese and Japanese Gardens :
Situated at the very west end of the MRT line and lying side by side, these gardens are something of a haven of tranquility away from the city. The 13-hectare (32.5-acre) Chinese Garden portrays the Imperial Sung Dynasty style and echoes the grandeur of the Beijing Summer Palace with its bridges, pagodas, stone-boat and teahouse. The Japanese Garden, by contrast, emphasises Zen simplicity with stone lanterns, hillocks and a dry garden. Classical Japanese motifs help create an atmosphere of anodyne calm.
Supreme Court and City Hall
Dating from 1939, the Supreme Court is one of the last colonial constructions. Its Corinthian columns surround stately interiors featuring murals by Italian artist Cavaliere Rodolfo Nolli. Next door is City Hall, another giant structure, built in 1929, and the site of the Japanese surrender to Lord Mountbatten in 1945. Visitors may tour the premises with the useful Guide to the Supreme Court and attend most open court hearings. Visitors who want to learn more about the local judiciary can visit the Multimedia Gallery, as well as the Supreme Court Open House-cum-Exhibition.
Singapore Botanic Gardens:
Singapore Botanic Gardens offer a reminder of a real land that time forgot: the gardens epitomize the tropical island's luxuriant parks with a combination of primary jungle and elegantly laid out flowerbeds and shrubs. Spread over 52 hectares (128 acres), the gardens hold more than half a million species of plant life. The National Orchid Garden has the world's largest orchid display featuring over 20,000 orchids.
Bukit Timah Nature Reserve :
This 164-hectare (405-acre) reserve, 12km (7.5 miles) from the city centre, is one of only two world nature reserves within city boundaries (the other is in Rio de Janeiro). The reserve contains more species of trees than the entire North American continent. Almost all of the island's forests were destroyed at some point in its history. Species of larger animals were rendered extinct, but, today, the fortunate visitor may glimpse a flying lemur or anteater. Only here is there a substantial area of primary rainforest.
Changi Prison Chapel & Museum :
Singapore has not always been smiling faces and success. During World War II, three years of conflict with the Japanese before capitulation saw 50,000 civilians and soldiers imprisoned in Changi. The new home of the Changi Prison Chapel and Museum was recently completed and is four times larger than the original. The chapel is a replica of many chapels built during the conflict. The museum records the daily life of prisoners in photographs, paintings and sketches.
Sentosa Island
SENTOSA: The largest and best known of Singapore's offshore islands is also one of the closest to the mainland. Sentosa is a multi-million dollar pleasure resort girdled by a monorail and offering a wide range of activities and attractions. These include the Underwater World and Dolphin Lagoon, Images of Singapore, the recently upgraded Musical Fountain Show, the Maritime Museum; and the New Food Centre. Lovely gardens, beautiful beaches and a plethora of restaurants and eating places all contribute to the island's popularity with tourists and locals alike. Many prefer to skip the theme park attractions and head straight for Sentosa's beaches - Siloso, Central and Tanjong - where a wide range of watersports is available. These were built with imported white sand and are often crowded, especially at weekends.
The Butterfly Park and Insect Kingdom Museum :
The Butterfly Park and Insect Kingdom Museum is one of the largest collections of butterflies in the region with some 2,500 butterflies, and insects from more than 50 species including rhino beetles and scorpions. In an environment replicating nature as closely as possible, it is a monument built in remembrance of the hundreds and thousands of these tiny creatures lost due to increasing urbanisation and deforestation worldwide.

The Merlion :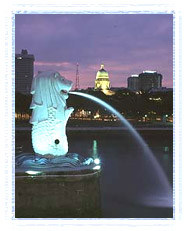 At 37 metres tall, the mystical Merlion stands guard over Singapore's good fortune. Different from the 8-metre tall statue standing at the Singapore River, this Merlion is a 12-storey high viewing tower and also one of the tallest free form structures in Asia. The Merlion also reveals many secrets from the sea-scores of beautiful tropical fish, a mysterious sunken pirate ship filled with treasure, and a huge array of surprises. Art finds a home at Sentosa Artists have found a new place where their creative juices can flow freely. Sentosa Artists Village is now home to five resident artists: Milenko Prvacki, Tay Bak Koi, Tan Kay Nguan, Teh Chan Kerk and Max Kong Kum


Chuen.
This new art studio and gallery on Sentosa is the location where these men create and showcase their art works for the enjoyment of Singaporeans and foreign visitors alike.

Activities :
Apart from its natural advantages including sandy white beaches, there are numerous man-made attractions and lots of beach activities such as pedal cars, aqua-bikes, fun bugs, canoes, windsurfing and swimming. There is also fascinating flora and fauna, historical enclaves, adventure theme parks and golf.
With several five-star hotels, romantic dining under the stars and night time entertainment including a musical fountain, a night market and the Enchanted Grove of Tembusu, Sentosa has everything a visitor could desire in a holiday venue.
Singapore Vacation
Duration :
03 Night - 04 Days
Destinations Covered :
Singapore - Singapore City Highlights - Jurong Bird Tour
Day 1 : Singapore
Arrive Singapore, you will be met and transferred by our representative to Hotel. Day free for familiarization / orientation.

Day 2 : Singapore City Highlights
After breakfast, City tour of Singapore covering Emperors Palace, the city centre, China Town, Sree Mariayamman Hindu Temple, Mount Faber, Botanical Garden, Singapore river etc. Afternoon Sentosa Island tour with Underwater world.
City Highlights:
The City Experience Tour showcases the contrast of old and new and the blend of East and West. Experience the history, culture and life-style of multi-racial Singapore, the exciting heart of New Asia-Singapore. We will visit the Colonial district where old Singapore begins and where modern Singapore was created, Little India, places of worship, China Town, Mount Faber which offers excellent views of the Singapore skyline, the harbour and offshore islands, and admire the best of Asian craftsmanship at a Gem Factory. Sri Mariamman Temple: It is the oldest Hindu temple in Singapore. Its site was acquired in 1823 by Narayan Pillai, a clerk of the East India Company who had accompanied Sir Stamford Raffles to Singapore. Since its foundation the Temple has occupied a unique place in the life of the Hindu community in Singapore and has been gazetted as a National Monument by the Government. The Temple is dedicated to Sri Mariamman, a manifestation of the Great Goddess, worshipped for health and prosperity. Sri Mariamman is popular in Southern India where goddesses are addressed as amman ('mother'). Given the large South Indian community in Singapore, temples dedicated to the Goddess and deities popular in South India dominate the landscape.
Botanic Gardens:
The Singapore Botanic Gardens ranks among the worlds finest tropical gardens. Renowned for both its combination of untouched primary forest and specialty gardens , the lush gardens date back to 1822, when its British founders literally carved the gardens from the Malay jungle. Today, four acres of those original jungle land has been preserved in their original state. Singapore River: Great cities of the world can usually take their early beginnings to the mouth of a river; Singapore is no exception. The river became a busy waterway, the lifeline of Singapore when entrepot trade was its main enterprise. The boats that used to ply their trade between the large ships on the outer roads of the harbour and the warehouses along the Singapore river.
Sentosa Island:
Singapores holiday resort-island, can be reached by cable car from Mount Faber or WTC (World Trade Center) and by ferry from WTC or overland by the Causeway-bridge. Sentosa Island said to be in direct contrast to the freneticism of Singapore, Sentosa Island is a purpose-built island theme park and offers beaches, history, golf, gastronomy and a host of themed attractions, including Volcano Land, the Asian Village, the water rides of Fantasy Island, and Underwater World, one of Asia's largest tropical fish oceanariums. The more earnest visitor can visit Images of Singapore, which depicts the island's early life, local festivals and customs and the World War II surrender to the Japanese at Fort Silosa, which shows the bunkers and underground passages used in the island's defense.
Day 3 : Jurong Bird Tour
Jurong Bird Park tour. Afternoon free for shopping.
Juroing Bird Park:
The largest bird park in all of South East Asia, Jurong Bird Park is a refuge for more than 8000 birds of 600 different species from all over the world. Highlights include Waterfall Aviary, at 30m (98ft) the world's highest manmade waterfall, and the South East Asian Bird Aviary, where a thunderstorm is simulated every day at noon. The new Lodge on Flamingo Lake promises food not just fit for birds. Bird shows feature flamingos, macaws, hornbills and cockatoos and one of the biggest attractions is the Penguin Parade, housing more than 200 penguins of five species. An air-conditioned monorail covers the entire park.
South East Asian Bird Aviary:
This region is home to over 1,000 species of birds from a global total of 8,500 species. While the aviary has been landscaped to provide a simulated secondary rain forest environment for the birds to live in, it still gives many vantage points from which visitors can observe the birds closely, at leisure and in relative comfort. As part of the rain forest experience, there is a tropical thunderstorm that comes on at 12 noon daily. The rain falls in the centre of the aviary away from the visitors walkway. The exhibit is especially attractive for tourists from temperate countries to admire our Southeast Asian birds collection.
Thunderstorm:
12.00 noon

Opening Hours:
9.00 am to 6.00 pm
Waterfall Aviary:
This newly redeveloped two-hectare Waterfall Aviary remains as the worlds largest walk-in aviary with the highest man-made waterfall standing at over 30 meters. It is home for some 1,500 free-flying birds from 80 African and provides visitors with a unique opportunity to watch them roost, bathe, feed and even raise their young in their nests. Set in a valley, the Aviary is landscaped with 10,000 exotic plants comprising 125 species of trees, bamboo, palms and ground-cover vegetation to simulate a tropical rain forest. In addition, an artificial 8-m tall tree moulded from an actual 100-year-old Barking Deers Mango tree has also been planted to enhance the rainforest landscape.
Opening hours:
9.00 am to 6.00 pm
Lory Feeding:
9.30 am, 11:30 am & 3.30 pm

Starling & Bee-eater Feeding:
10.30 am, 11.30 am & 4:00 pm

Panorail service to Waterfall Aviary:
9.00 am to 5.30 pm

Last train service from Waterfall Aviary:
5.45 pm
Penguin Parade:
Occupying an area of 1,630 square meters, the Penguin Parade is the home to the endearing penguins found at the Bird Park. There are more than 200 of them living here. The five species on exhibit are the Humboldt, the Rockhopper, the Macaroni, the Fairy and the majestic King Penguin.

Penguin Feeding Times:
10.30 am & 3.30 pm
Day 4 : Departure
Free for shopping. Transfer to airport and Departure.
FAR EAST HOLIDAY
BANGKOK-SINGAPORE-MALAYSIA 12 DAYS/11 NIGHT PACKAGE
Day 0 1:
BANGKOK
Upon arrival into Bangkok, check into the hotel . Overnight at the Hotel.
Day 02:
BANGKOK
City Tour of Bangkok, Onto Pattaya, Tiffany Show. Overnight at the Hotel in Pattaya. Optional Tour to Nong Nooch Village.
Day 03 :
In the morning after breakfast , we visit Coral Island. In the afternoon, you can take an optional tour to Nong Nooch Village. Dinner and overnight at the Hotel.
Day 04:
Depart for Bangkok. Visit Safari World. In the morning after the breakfast, we drive back to Bangkok. Upon arrival into Bangkok, we take you on a tour Safari World. Also visit Asia's largest show - stadium for dolphins. Dinner and overnight at the Hotel.
Day 05:
Day free . Today morning after breakfast, you can take an optional tour to Leo Land. Enjoy the roller Coasters, water slides and Go-Kart rides. Return back to the hotel. Dinner and overnight at the Hotel.
Day 06:
FLY BANGKOK - SINGAPORE
In the morning after breakfast , we fly to Singapore. Day at leisure.Dinner and overnight at the Hotel.
Day 07:
City Tour, Sentosa, with Undersea World. Morning after breakfast, we depart for a City Tour of Singapore. Later in the afternoon, we visit Sentosa Island and Under water world. Ride a Cable Car and see the dancing water fountain. Dinner and overnight at the Hotel.
Day 08:
Optional tour of Night Safari. After breakfast, you take a tour of Jurong Bird Park. Later in the evening, take an optional tour to Night Safari. Dinner and overnight at the Hotel.
Day 09:
Malaysia
In the morning after the breakfast, we proceed to Singapore Train Station to broad your train to Kuala Lumpur. Upon arrival, Check-in to the hotel. Dinner and overnight at the Hotel.
Day 10:
City Tour of Kuala Lumpur, Onto Genting Highlands. After the breakfast, we take you on a panoramic City Tour, See the King's Palace, National Museum, Merdeka Square and the National Monument. Later in the afternoon, we proceed to Genting highlands. Dinner and overnight at the Hotel.
Day11:
Day free at Genting Highlands. In the morning after breakfast visit one of the attractions of this resort- the Genting Theme Park. An exciting spectrum of carnival, hi - tech rides and endless amusements. Enjoy the dinner. Tonight, visit Casino De Genting, the largest casino in Asia. Overnight at the Hotel.
Day 12:
Fly Back Home. Transfer to airport to board your flight.
Singapore Cruises
Superstar Virgo
| | | | |
| --- | --- | --- | --- |
| Day | Destination | Arrive | Depart |
| Wed | Singapore | | 2359 |
| Thu | Kuala Lumpur(Port Klang) | 1100 | 2100 |
| Fri | Singapore | 1400 | |

Superstar Virgo


Day

Destination

Arrive

Depart

Sun

Singapore

1600

Mon

Langkawi Island

1200

2000

Tue

Phuket Island

0800(0700)

1800(1700)

Fri

Hong Kong

1900

Superstar Gemini


Day

Destination

Arrive

Depart

Sun

Singapore

2200

Mon

Kualalumpur (Port Klang)

1200

2100

Tue

Penang

1200

2100

Wed

Phi Phi Islands

0900 (0800)

1600 (1500)

Phuket

1900 (1800)

Thu

Phuket

1800 (1700)

Fri

International Waters *

Sat

Malacca

0800

1900

Sun

Singapore

0600

Singapore Tour Reservation Form